Our restaurant locations will be closed on Christmas Eve and Christmas Day.
Our staff and management wish each of you a happy holiday season!
Our Menu
Explore our unique flavors. We serve the best traditional Mexican dishes in Roanoke Valley!
View Our Menu
About Us
Learn about our mission, our story and why we are one of Roanoke Valley's best Mexican restaurants!
Learn More
Contact Us
Feel free to contact us. We would love to hear about your experience at one of our restaurants!
Contact Us
Hollins/N. Roanoke
7212 Williamson Road,
Roanoke, VA 24019
(At Peters Creek & Williamson Rd.)
(540) 904-5825 • Fax: (540) 904-5826
Get Directions
Mon. – Thurs. – 11 AM – 10 PM
Fri. – Sat. – 11 AM – 10:30 PM
Sunday – 12 PM – 9 PM
Downtown Roanoke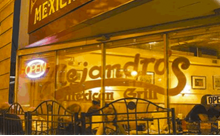 127 Campbell Avenue
Roanoke, VA 24011
(A few steps from the market)
(540) 400-7053 • fax: (540) 400-0733
Get Directions
Mon. – Thurs. – 11 AM – 10 PM
Fri. – Sat. – 11 AM – 11 PM
Sunday – 12 PM – 9 PM
Salem
1304 W. Main Street
Salem, VA 24153
(Mill Lane Commons Shopping Ctr.)
(540) 387-1420
Get Directions
Mon. – Thurs. – 11 AM – 10 PM
Fri. – Sat. – 11 AM – 10:30 PM
Sunday – 12 PM – 9 PM